Stress Less, Live More!
Stress is the the #1 contributor to sickness and disease in America today! Stress erodes the very core of who we are and slowly destroys our health and lives. Many people identify with stress, primarily emotional stress..."my kids are killing me!" or "I hate my job!" But did you know that there are two other forms of stress we often ignore? Physical stress and Chemical stress. We often ignore these two and it's becoming a deadly mistake. This class delves into how these three components of stress: Physical, Chemical, Emotional, come together to have devastating effects on our lives and our health. We provide strategies to identify these stresses and offer solutions and action steps to dramatically improve how you deal with stress. Reduced stress levels result in a higher quality of life that will be experienced on every level including work, family and your individual mission in life.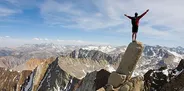 Living Life Without Limits Believe it or not but the fastest growing segment of America's population today are CENTENARIANS. They are people who are over 100 years of age! The statistical chances of you making it to 100 are very high. This seminar will provide you with realistic steps that you can put into action today to ensure a healthy, fulfilling life for years to come. Remember, how we treat our bodies today determines the quality of life we will have tomorrow. If your body fails, where will you live?
30 Minute Makeover (30mMO)
We are bombarded every day with fad diets and ridiculous, unattainable exercise routines. Hundreds of thousands of books have been written, and more each year, about diet and exercise. But every year we get heavier and heavier and our health wastes away. The 30mMO is designed specifically to provide a solid foundation on which foods help heal the body, regulate weight and provide true health. We also cover the foods that lead to weight gain, inflammation, sickness and poor health. Our desire is to provide life changing information in a no nonsense manner that builds the foundation for the development of a healthier new you.
The Race to 500

Did you know… If you drank one can of regular soda a day, at the end of a year you will have gained 15lbs! Unfortunately each year millions of American's experience this. But you can be different. Learn how to modify your daily diet and save 500 calories a day. As we share this information with you, you will discover… it's much easier than you think.
What is Chiropractic?
Do you suffer from headaches, fibromyalgia, neck, back or joint pain? A deskbound job or lifestyle will wreak havoc on your body over time and increase the odds of developing chronic pain. But there is a way to prevent this. "What Is Chiropractic" will provide you with proven, natural, safe, effective tips for you to fight back.